Natif – TCF and French courses in the Gers
You are a foreigner, you wish to learn French, to improve your level to integrate ? Natif will help you learn the language, from literacy to level C1, and will enable you to take the TCF exam that corresponds to your objectives.
Certify your level in French
The TCF (Test de Connaissance en Français) is a test to verify the level of competence in the French language. It is harmonised on the scale of the 6 levels of the Common European Framework of Reference for Languages (levels A1, A2, B1, B2, C1 and C2).
Since 2015, NATIF has been approved by France Education International (formerly CIEP) to administer the TCF in the Gers.

To speak and write French is to integrate !
With Natif, you will not only learn to communicate in French but you will also discover the keys to understanding the news, culture, history and traditions of our society.
You can access the courses regardless of your age, your nationality, your gender, your level, your place of residence. Natif offers face-to-face group FLE courses in different towns of the department or online or mixed (alternating 3 online courses and 1 face-to-face course), and literacy workshops.
Depending on your preferences and availability, you can take a course wherever you are !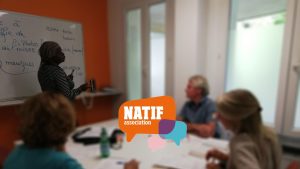 Face-to-face group courses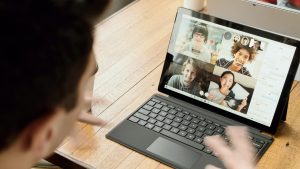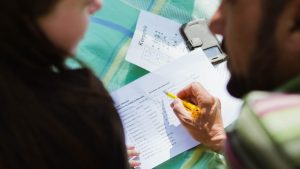 Courses adapted to your level
Discover our tailor-made courses
French in a click ! Make your organisation easier with this 100% online training and benefit from individual courses with dynamic and relevant content. We will establish together the programme of your course so that it corresponds exactly to your needs (general French or French for specific purposes or preparation for the TCF). From level A2.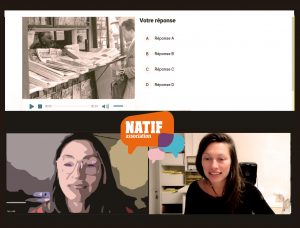 I was really stuck because I needed a certificate of my level of French very quickly. I wrote to around thirty examination centers, but Natif was the only one to answer me with clear proposals that met my needs. I couldn't thank them enough for their professionalism and kindness.
I am very happy with the revisions, the homework and the time taken to explain the logic of the French language… The trainer took the time, with good preparation, with specific attention to my needs. Also the tools for doing the remote sessions are very efficient and not complicated.
NATIF is a unique place to discover all the various sections of France, while we learn their language. I find the teachers modern, open and generous while I struggle with my memory! We have enough grammar but the emphasis is placed on practice and errors are gently corrected. I highly recommend to anyone who wants to explore French life and language.
Pour fermer
Can we start training at any time of the year ?
Yes ! After having carried out a placement test, we will suggest that you join the group most suited to your level.
How does a class take place with Natif ?
Our classes aim to develop your comprehension and expression skills. Multiple and varied tools enable you to speak and understand everyday French ? We also work on your writing ability through newspaper articles, authentic documents such as letters, invitations… We're offering not only a training to get communication tools in French but also keys to understand French society.
How are the groups formed ?
Groups are comprised of interns with the same level of different nationalities and available to all ages (from 16 years old to 99 years old!).
A question about our training courses, our TCF exams?
Fill in the form below, or contact us directly by email or telephone.

13 Boulevard Roquelaure
32000 Auch
Our training
As of July 1, 2021, we collected 39 satisfaction surveys from 163 registered people.
of trainees say they are very satisfied with their training taken during the year 2020-2021
of our trainees gave us a grade of 6/6 (rated from 1=not al all happy to 6=very satisfied)
of our trainees felt that their training improved their French skills
Pass the TCF
Since January 1, 2021, 100% of candidates who answered our surveys say they are "globally satisfied" to have taken their TCF with NATIF.
are very satisfied with the ease of registration and the answers to their questions
say they are satisfied with the reception and conditions in our premises